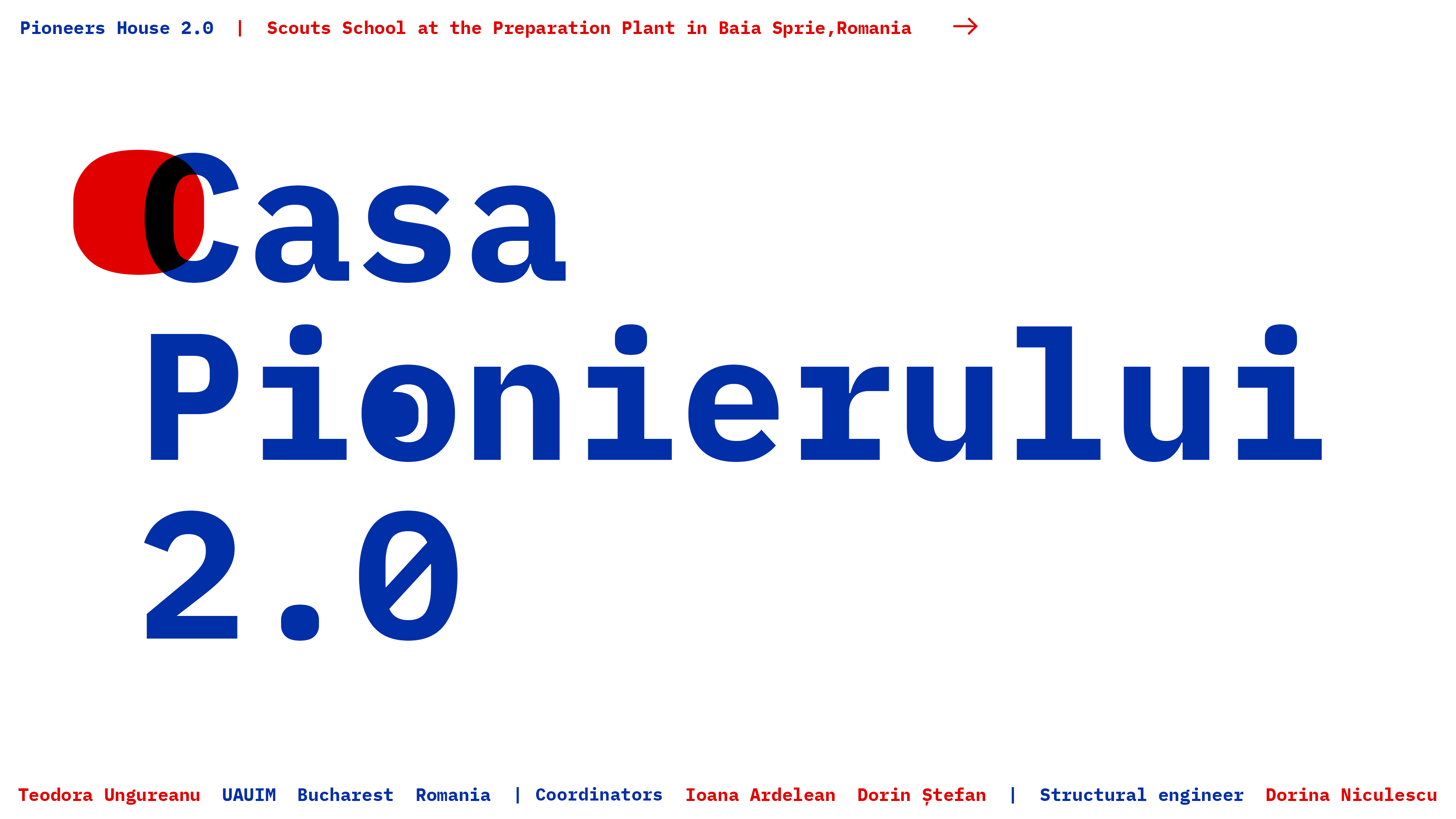 The Context
The Baia Sprie Preparation Plant (Flotație) is a part of the industrial site of Baia Sprie Mine. In 2005 the mining activity in Maramureș county closed, generating an economical and cultural crisis in all the (post)mining cities.
Contextul

1

Uzina de Preparare Baia Sprie, numită și Flotația, face parte din Complexul Minier Baia Sprie. În anul 2005 activitatea minieră este oprită în întregul județ, generând o criză economică și culturală în toate orașele (post)miniere.
w
The Strategy
By choosing this site I wanted to answer some of the questions I had growing up in a post-mining city:


- what do we do with a post-mining site,
once the mine has been closed?
- is an industrial heritage approach the best course of action,
or the public administrations plan to demolish the industrial sites enough?
Strategia
Prin alegerea acestui situl pentru proiectul de diplomă am vrut să-mi răspund unor întrebări care au apărut crescând în acest oraș și apoi urmând cursurile facultății de arhitectură:


- cum trebuie abordate arhitectural fostele situri miniere în raport cu comunitățile locale?


- este potrivită o abordare patrimonial industrială?
sau planul primăriilor de a demola complexurile miniere este suficient?
My research was structured in two parts that answer 2 main questions:


1. How did Flotație work and which were its links with the territory: the mines, the cities and the natural environment.

***This site had a very strong link with its context,
taking from the natural environment, slowly eroding it and sometimes polluting it.


2. What actors worked or could work on this territory?


***Research institutes, cultural institutes or different associations or social categories from the studied region.

How could they fit into Flotație and how could they help establish new positive links with the territory.
Studiul diplomei a fost împărțit în două etape care răspund la două întrebări importante:

1. Cum a funcționat Flotația la nivel de fluxuri tehnologice și care erau legăturile ei cu teritoriul, orașul și mediul natural?

***Acest sit a avut o legătură foarte puternică cu contextul,
nu neapărat una pozitivă: luând din mediul înconjurător, erodându-l încet și poluându-l.


2. Ce actori au lucrat cu Flotația și ce actori pot lucra acum cu situl?

***Partea aceasta a studiat institutele de cercetare, institutele culturale și diferitele asociații locale din regiune.

Apoi s-a studiat modul în care ele ar putea folosi Flotația pentru a creea noi legături cu teritoriul, unele pozitive
The conclusion of the study is that there needs to be a strategy that integrates Flotatie into the whole Mining Basin of Baia Mare. This strategy will help the local communities work with the mining heritage to overcome the economical, social and cultural crisis.

The new actors will create new links with the 3 architectural programs: The Research Hub, Extreme Sports School and Pioniers School 2.0.
În urma studiului am ajuns la concluzia că este nevoie de o strategie amplă la nivelul întregului bazin minier Baia Mare. Această strategie
trebuie să lucreze cu moștenirea minieră ajutând regiunea și comunitățile locale să treacă peste criza economică, socială și culturală.

Noii actori creează noi legături și noi fluxuri prin cele 3 programe arhitecturale rezultate Incubatorul de cercetare Flotația, Școala de sporturi extreme și Casa Pionierului 2.0



Flotația View
the new technological flux
Flotația Masterplan
The school ⟶ the activities

out ⟷ in
Școala ⟶ activitățile

afară ⟷ înăuntru
⟶ the extroverted ones that focus on exploring the territory of Flotatie and Mines Hill

⟶ the introverted ones that take place in the building. They focus on the manual workshops that bring together traditional craftsmanship with modern techonogies and the more theoretical workshops inspired by the old Casa Pionierului that closed in 2000 to make place for a B&B.


The aim is to bring together the local or the tourist children with the local craftmans in projects that rediscover the traditions of this territory.




i. cele extrovertite-focusate pe explorarea teritoriului și strângerea de informație de orice formă

ii. cele introvertite-au loc în interiorul Casei: ateliere ce au ca scop îmbinarea meșteșugurilor tradiționale cu tehnici moderne de fabricație și cursuri teoretice inspirate din vechea casă a pionierului, închisă în anii 2000.


Scopul este de a aduce împreună copii din comunitate și turiștii, de a-i ghida în redescoperirea teritoriului cu tradițiile, meșteșugurile dar și moștenirea minieră.
Discovering Casa Pionierului 2.0
Flotația: A map of the extroverted activities for
Casa Pionierului 2.0


Ș
Playing with moiré patterns
on the topography

Casa Pionierului 2.0

The Concept : Camuflage → Moiré






The Conceptul : generarea formei



The strategy by which I generated the bulding was that of the camouflage. But not camouflage understood as hiding from the eye, more like as a techniquw of understanding the context into which the building forms and sits. This strategy generates a relationship building-landscape where each element blends into one another: house becomes landscape, landscape becomes house.

As a camouflage technique I came to the conclusion that the moiré effect would fit into the way the building is generated. Why? The lines in a moire pattern can go parallel to one another or they can intersect one another, each time blending into one another.


Volumetria Casei a fost generată prin strategia de camuflaj, dar nu în sensul de obiect care se ascunde ci ca un proces de înțelegere a contextului în care clădirea se formează și se așază. Astfel se generează relații complexe clădire-mediu: casa devine peisaj, peisajul devine casă.



Tehnica de camuflaj aleasă, moiré-ul, a rezultat din studiul 3D a sitului. Liniile efectului sunt preluate la nivel volumetric, rezultând o casă care mai întâi se îmbină cu mediul, curge cu liniile de nivel, apoi crește și generează o noua topografie.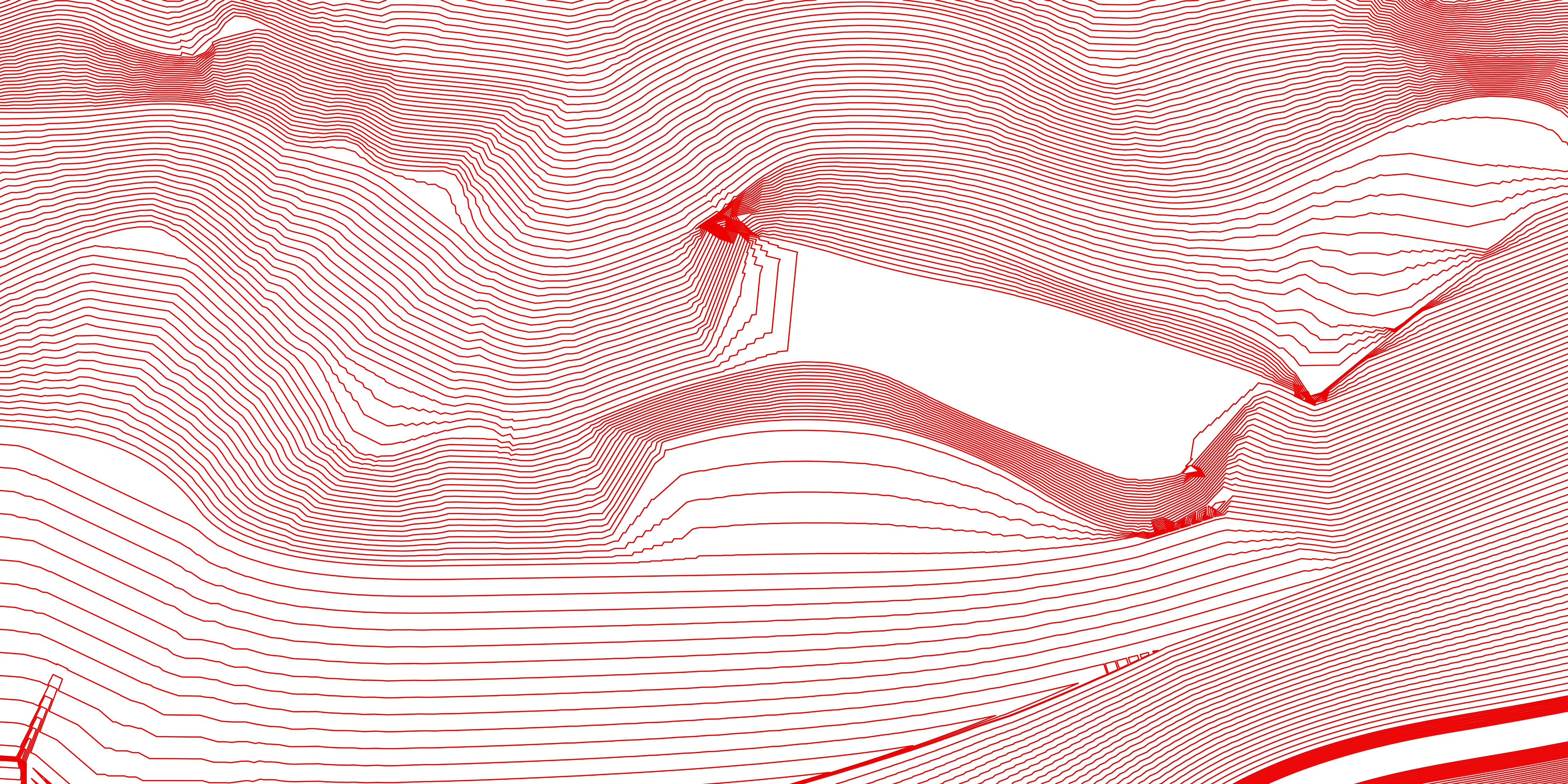 relația casă ⟷ topografie
hohouseB
Casa Pionierului 2.0 reacts differently with the landscape, based on the conditions it encounters: first the house blends with the topography. flowing with the landlines, then it grows generating a new topography, that together with the natural one forms a internal yard.

Where the hill is at its most step angle, the house goes over it, landing on an upper platform, opening to the forest. In the back part, the house breaks into three parts that enter like a comb into the forest.

The facade also takes from the context, with the general structural lines resembling the hill forms, creating a new hill. The double wood facade used on the south creates a transparency game where the building presents itself in different images, depending on the time of the day.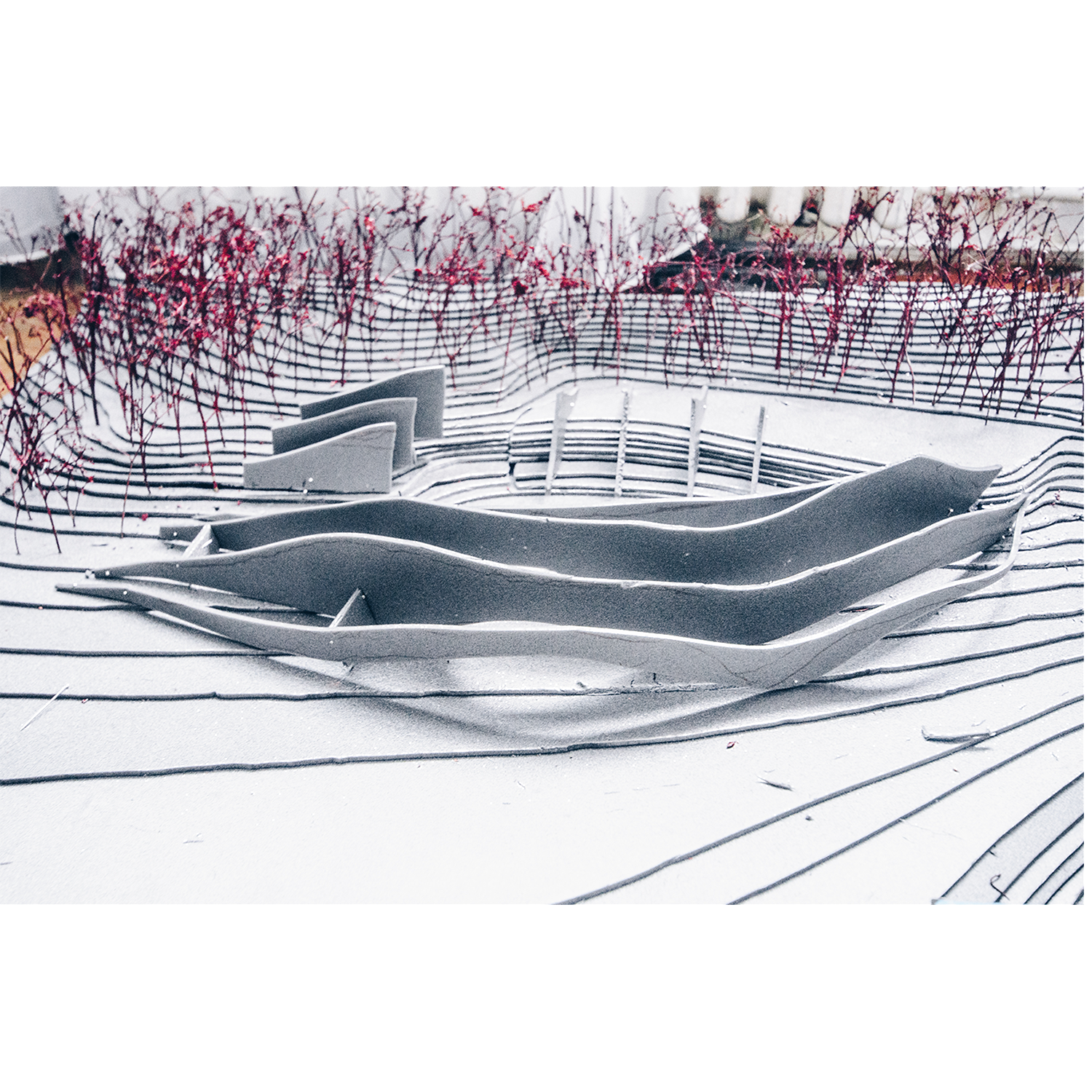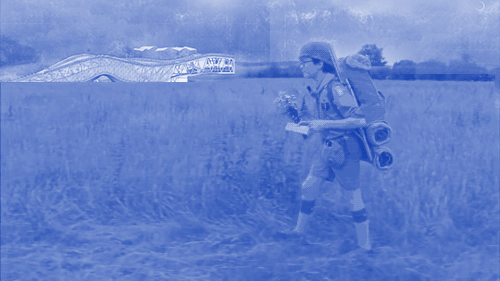 See you
next summer!